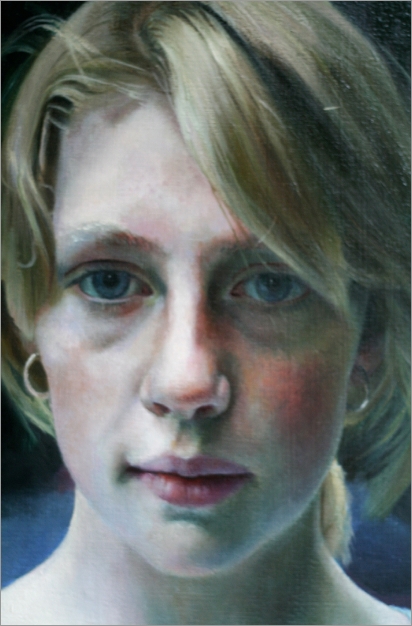 'Victoria' by Celia Bennett, oil on canvas, 2008
The Holburne Museum's fourth prestigious biennial portrait competition for artists in the South West showcased the best contemporary portraiture from the region.
The competition winner, David Fisher, received a prize commission of £5,000 to portray a leading figure from the cultural life of the South West. This portrait will be added to the Holburne's already distinguished collection of portraiture which includes work by Gainsborough, Stubbs and Raeburn. Renowned for its eighteenth century figures the Holburne is delighted to now boast superb twenty-first century portraits in its collection.
The 2008 Prize Panel of judges included the author Victoria Glendinning, John Leighton, Director of the National Galleries of Scotland and the artist Humphrey Ocean RA. They announced the winning artist on 17 October.
In addition to the prize commission, two other popular winners were announced. There was to be one People's Choice award, voted for online on The Bath Chronicle's website thisisbath.co.uk, and on paper at the Chapel Row Gallery where the shortlisted entries were on show.
But the organisers decided to award two distinct prizes after it became clear online voters wanted one winner and the gallery visitors another.
The online winner of the People's Choice online vote was former GP Katy Sullivan for her portrait Calm. And the paper People's Choice winner was Sue Burns for her portrait of her son, Joe.
The Holburne Museum has closed to undertake a redevelopment project that will see its existing home restored, refurbished and extended through a striking extension designed by Eric Parry Architects. The renewed Holburne is scheduled to reopen in autumn 2010. The development is supported by a grant from the Heritage Lottery Fund. The Holburne is delighted that this exhibition was hosted by Chapel Row Gallery, Bath.
The exhibition was supported by the Friends of the Holburne Museum, Chapel Row Gallery and Bath Royal Literary and Scientific Institution.
Media Partner: The Bath Chronicle
----------